LATEST NEWS HOUR BY HOUR
To date, the predictions about the peak of coronavirus infection are not comforting. The head of Civil Protection Angelo Borrelli this morning at the microphones of Rai Radio2 said: "the peak will not come next week but the week after," he continued: "Optimism and hope must come from the behavior that our countrymen are adopting. We need absolute caution, we need to go out as little as possible. It is fundamental to contain the contagions. We must avoid human contact and move as little as possible. Avoid leaving the house unless strictly necessary. Epidemiologists tell us that if we lead an absolutely normal life the percentage of people affected by the coronavirus is much higher. That is why measures such as those taken in China are taken. The mask is useless if you keep safe distances".
And in the meantime another negative record is announced today: " Today throughout Italy +793 deaths in a single day!
+4,821 new infections and 10,000 complaints in one day for non-compliance with prohibitions.
The total number of infected people rises to 53,578 people who have tested positive since the beginning of the pandemic, 4,825 of whom died (total).
I personally have started to drastically reduce unnecessary/non-essential movements since February 20th and I have been in absolute voluntary self isolation since Sunday March 8th, 13 days without leaving home and meeting anyone (the postman, leaves me the mail at the gate, signs it and leaves).
Being over sixty years old diabetic and moreover with hypertension… I was provident, and since the end of January I have prepared a supply of food and medicines for 4 months, so I won't need to meet anyone for a long time.
What's certain is that my situation is, in fact, completely the same as that of a 41 bis prisoner.
It is urgent to think of something to avoid being overwhelmed by depression, to invest a modest amount of money in an activity that allows us a minimum of leisure.
I have therefore tried the live casino of Betmaster, and I must say that it seems to be in a real casino with lots of Croupiers in flesh and blood.

If you try to access from an Italian IP you will obviously be banned, don't lose heart use your brain and read this article:
how to be invisible on the web (to tyrants and the greed of politicians)
With WIREX I bought the equivalent of 100€ in Bitcoin Link to wirexapp.com; .
and I paid them into the casino gaming account and got a welcome bonus of 100€ (and it's true in I could have paid 1000€ and got a welcome bonus of another 1000 but I kept it light).
If you do not understand what we are talking about (Cryptovalute & Bitcoin) I recommend these three items that are simple and clear:
You will understand reading the reasons why I preferred to use Bitcooins (BTC), you can however also use the classic forms of deposit (in this period the transactions with traditional systems are very complicated and often are refused – I assume for the danger of computer fraud – I tried uselessly with 3 different mastercards and visa after that I got bored and resolved with WIREX ).
The most interesting feature of Betmaster is the simplicity of registration and the absolute lack of bureaucracy and collection of personal data for those who access from a non-Italian IP, obviously needs a adapted VPN to be able to access for those who are geo-localized in Italy and some other EU countries. However, once you enter their website you start the procedure with the blue "Register now" button. You only need a mobile phone number also (Italian) – the only data required for registration (no tax code or other) – which is also used for security confirmation on future winnings withdrawals / collection) … You will receive a code via SMS to confirm your player account. At a later time, you can enter your profile data, but you can already start playing without any further formalities.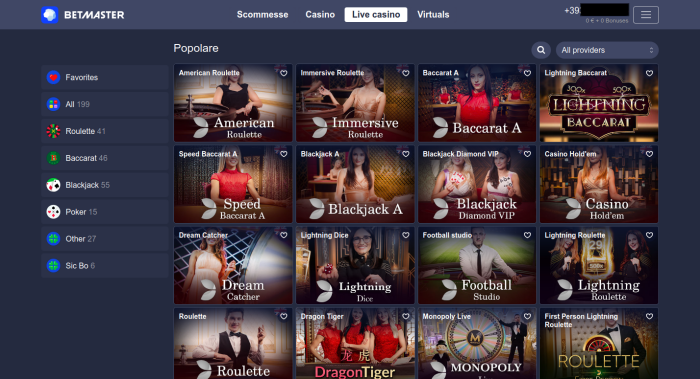 No need to explain anything about the game modes…
everything is extremely simple and intuitive…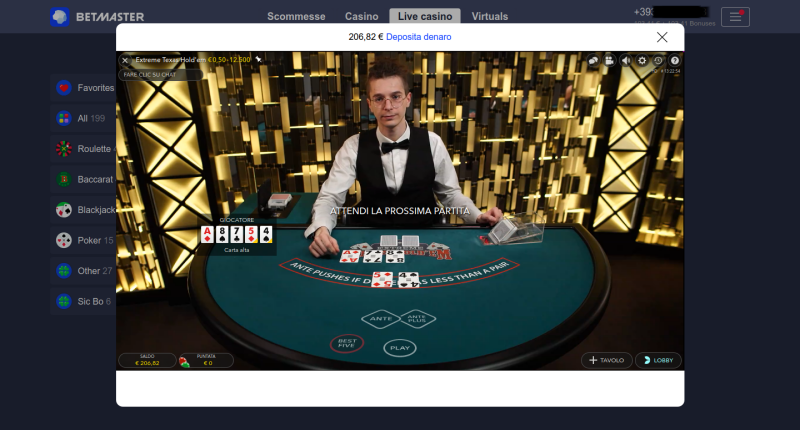 the Croupiers look real flesh and blood and are all very professional, they speak English.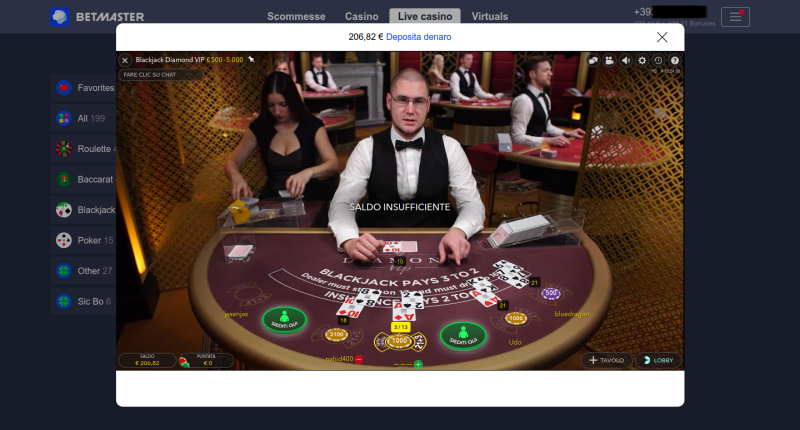 Simpatic this game with 3 gravity drop dice (as Isaac Newton would say)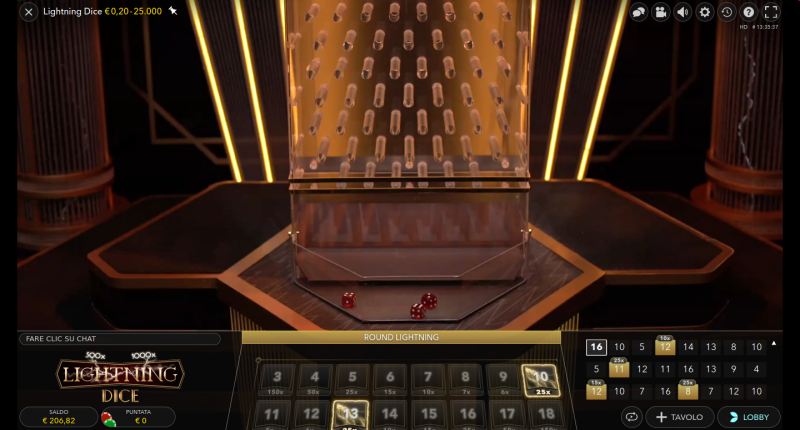 I've never played Baccarat Punto Banco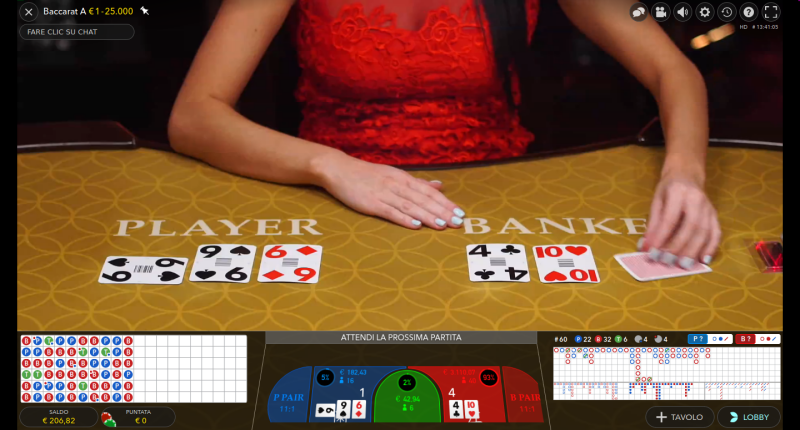 This game, born in North America and then spread all over the world, is the game that officially and properly is the only one that can be called Baccarat, (baccarat is an Italianized writing); this game is present in all casinos in the world and although it is basically a random game, where the player cannot manipulate events, it is always more successful.
Although it is played in two, baccarat involves a number of players that can vary up to 14 people, as people can bet even if they are not playing, just like blackjack.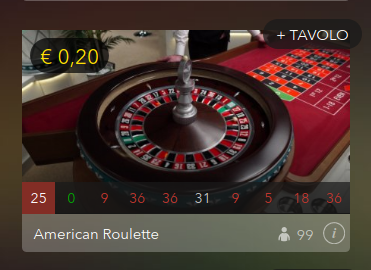 I liked it very much and I recommend the American Roulette with double ZERO that allows bets from 0.20€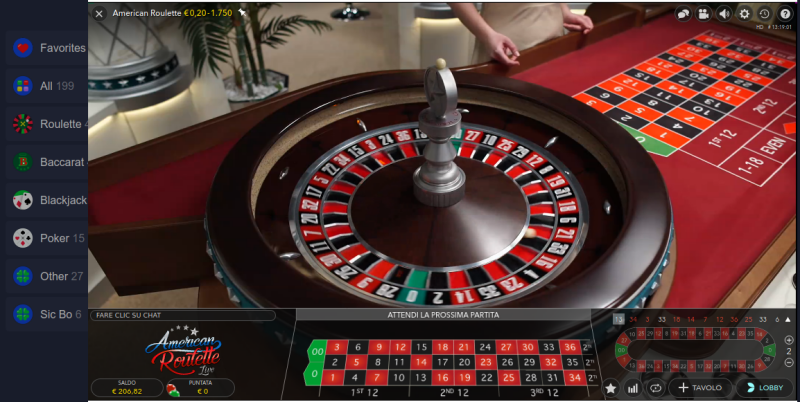 … in half an hour I won 46€ and even if the game is fast you can play a whole day with what you spent to go out for a happy hour in Milan…
but at least here you don't run the risk of running into the Virus!
Greetings to all and see you next article…

If you want to know more continue reading these articles that teach you how to use Bitcoins read some of my latest articles on cryptocurrency and Bitcoins:
Bitcoin play in absolute anonymity with more winnings without taxes
Betmaster – online betting platform no AAMS/ADM – (without taxes) – also in Bitcoin
Cryptocurrency the coins of the future? i.e.: how to make bitcoin bets
Bitcoin play anonymously on the Betmaster online betting platform – no AAMS / ADM – (without fees).




If you want to find more info: in these two articles is clearly explained in a very simple way how to use Bitcoins…
Greetings to all and goodbye to the next article…