Right now Bitcoin (BTC) has gone over the 10,000 € wall, and the price continues to follow a bullish trajectory.
In July PlanB released an update for its Stock-to-Flow model, which shows how BTC's recent movements follow repetitive cyclic patterns.
Bitcoin's S2F Cross Asset Model (S2FX) uses colored dots to evaluate cryptocurrency performance in relation to the date of its next block reward.
After the May halving, two consecutive red dots appeared on the chart: when this happened in the past, PlanB points out, Bitcoin's price increased exponentially.
Based on this historical model, BTC's next bullish movement seemed to be imminent in July: and this really happened between the end of July and the beginning of August.
Moreover, the model indicates (in statistical forecast) that before the halving of 2024 the BTC/USD pair will reach a price of $288,000, with the potential to reach even higher peaks.
This predictive BTC price model has so far proved surprisingly accurate, despite the fact that the Stock-to-Flow has been severely criticized by many traders and analysts in recent months.
If you read my previous article on June 17… I agreed with the more optimistic forecast:.
After the halving, the Covid19 pandemic and the world economic crisis – Technical analysis & Forecast on Bitcoin.
And I continue to predict that we will exceed 15000€ before 2021……
S2FX by Bitcoin, July 1
.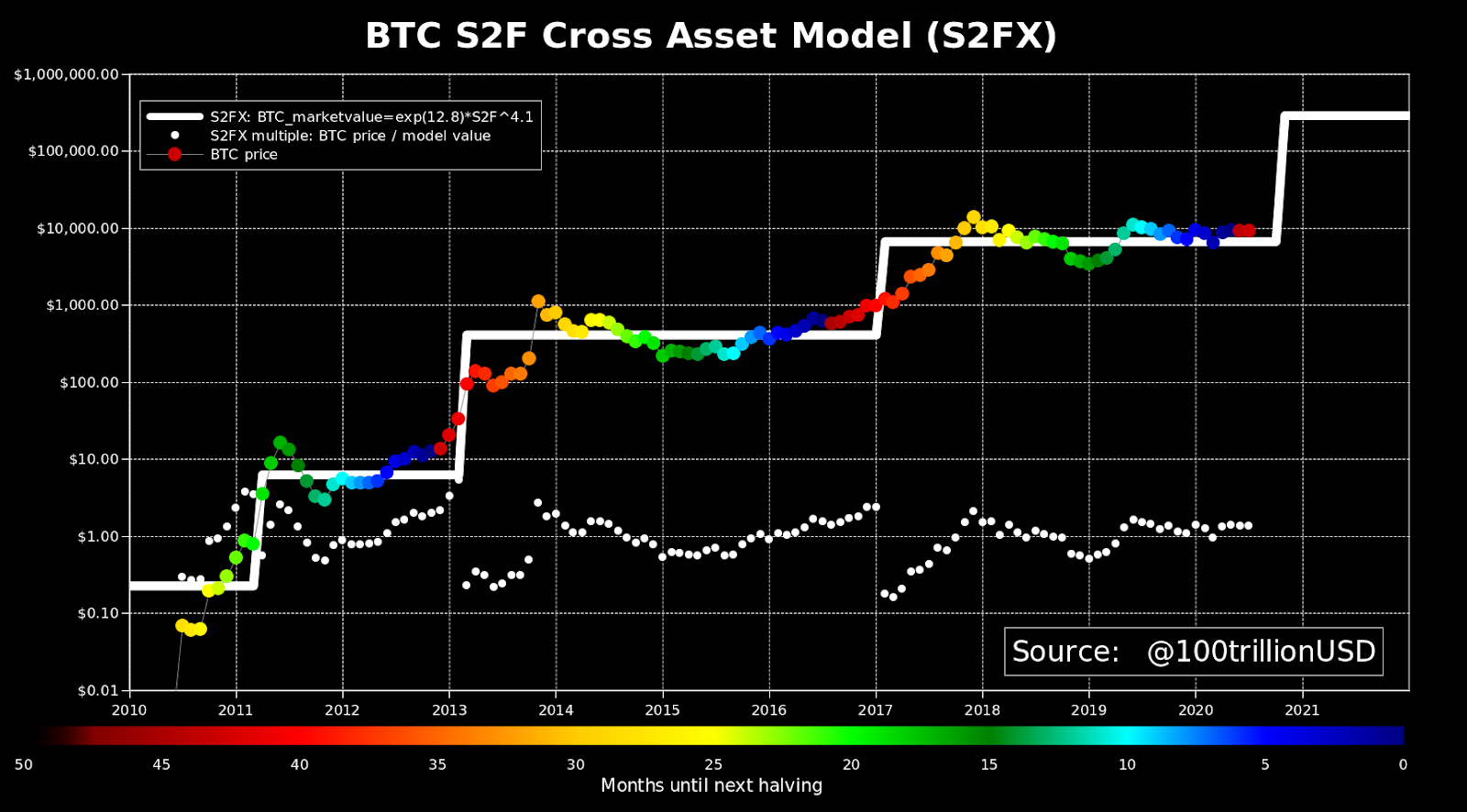 .
S2FX by Bitcoin, July 1. Source: PlanB on Twitter.
" A "typical" monthly increase of 30% would bring BTC up to 12,000€ "…
PlanB stressed the "very symmetrical" nature of the Bitcoin price movements, which is derived from the analysis of Bitcoin monthly returns from halving in 2016 to 2020,
Therefore, the excursion of the BTC/USD pair occurred between July and early August from about $9,000 to $12,000, is to be considered a "typical" monthly increase of 30% as it has often occurred in the history of this cryptocurrency.
Bitcoin monthly returns during the last halving period
.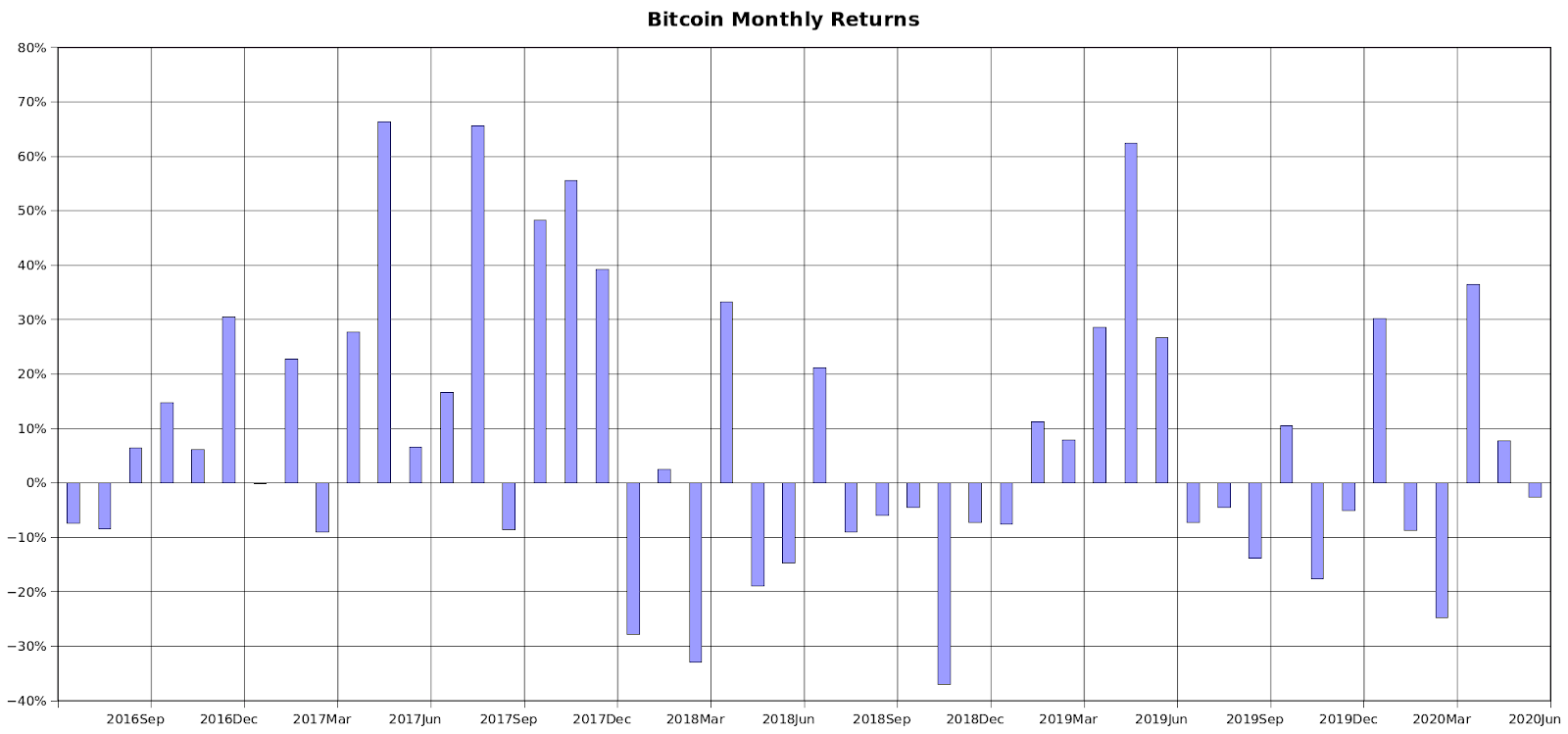 .
Monthly Bitcoin yields from 2016 to 2020. Source: PlanB on Twitter
.
In spite of the strong correlation between Bitcoin and S&P 500, which was considered to be an extremely important macroeconomic factor and able to prevent the cryptocurrency from exceeding $10,000 ….. and even according to Tone Vays, well known trader of cryptocurrency, Bitcoin would not pass the $10,000 wall until the end of the year 2020: today we have already reached $12,000.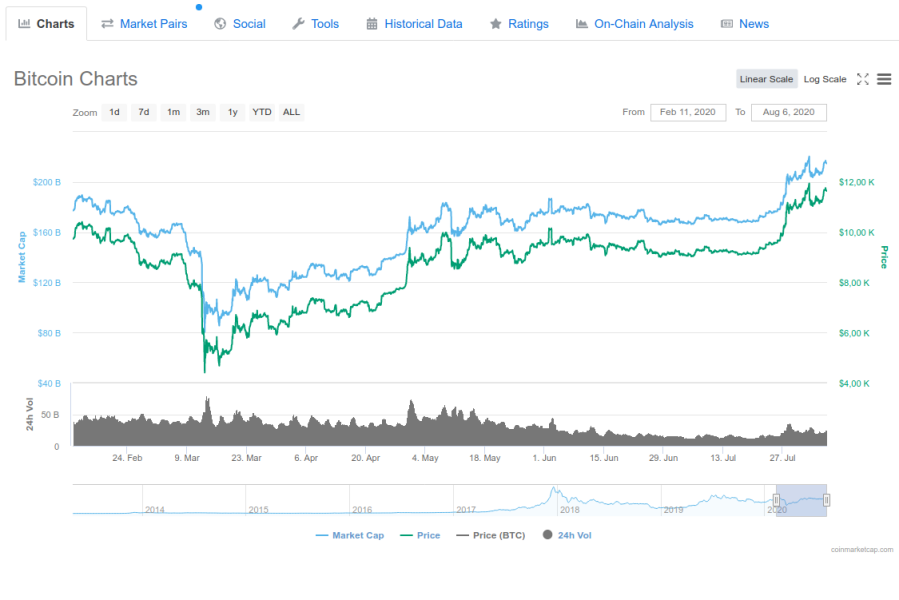 .
In an environment of strong bearish pressure on traditional equity markets, many analysts expect the BTC/USD pair to continue to follow macroeconomic fluctuations… and I agree. …"se son rose will bloom" …
maybe, in the meantime, learn how to use the crypt
Greetings to all and see you next article…
For those who do not know and/or are not familiar with BTC and Crypto-currency I recommend the following articles, which illustrate how you can practically use these new technologies in simple and common everyday activities, (get them, manage them, spend them even with debit card, exchange them and/or convert them in all traditional currencies):


.
If you want to know more continue reading these articles that teach you how to use Bitcoins read some of my latest articles on cryptocurrency and Bitcoins:
Bitcoin play in absolute anonymity with more winnings without taxes
Betmaster – online betting platform no AAMS/ADM – (without taxes) – also in Bitcoin
Cryptocurrency the coins of the future? i.e.: how to make bitcoin bets
Bitcoin play anonymously on the Betmaster online betting platform – no AAMS / ADM – (without fees).




If you want to find more info: in these two articles is clearly explained in a very simple way how to use Bitcoins…
Greetings to all and goodbye to the next article…